Specialised Auditing
We bring a prescriptive site or asset wide digital data capture process that identifies and records your key energy systems.
Electrical infrastructure
Transformer, Mains, Sub-Mains and key Distribution Boards (condition, location, sizing, supply and capacity and importantly relationships and 'fed from').

Mechanical assets
Linking and labelling air-conditioning and mechanical plant to support capital works, upgrade or maintenance factors, drive control optimisation.

Solar PV assets
Existing or desired solar PV, including expansion (roof space, condition and structural assessment).
Lighting assets
All lighting, mapped, consumption and replacement savings projections, energy and lighting recommendations engine.

Other key assets
Including pumps, motors, drives, BMS, control equipment, geothermal plants, medical equipment, manufacturing plant, external lighting, EV charging infrastructure locations, servers and IT infrastructure.
Data Management & Collection Strategy
Make more sense of your raw data. By collecting, centralising and auditing your data, you'll get better insights to make better decisions.
Our Process
Collect and analyse target information across all sites and energy system types.
Apply domain or outcome specific inputs:
Folder or equipment hierarchies

Dynamic, responsive site and infrastructure adaptation
Collected information is mapped into structured outputs for use/ingestion into other client systems
Energy design, building modelling or asset/facility/building management systems

Additional document creation – single level diagrams, floorplans etc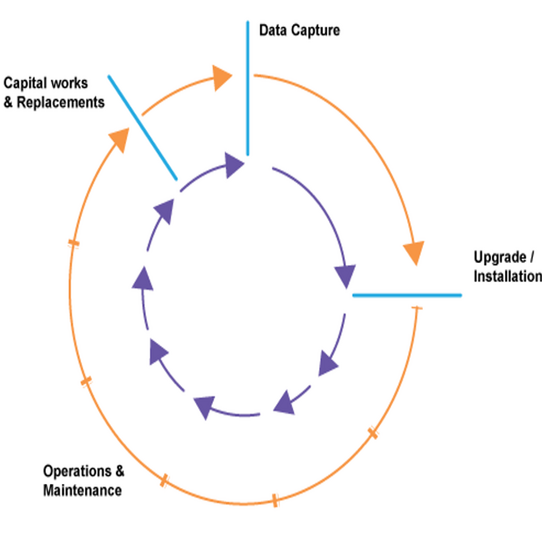 Why do you need an audit?
The best decisions rely on the best insights. And the best insights rely on the best data set. By bringing data from disjointed systems together you get a better understanding and gain efficiencies across your business. Key uses include:
Planning and records management
Improve investment decision making
Equipment condition and operating performance reports
Optimise lifecycle management through baseline operating and maintenance processes
Easy navigation pathways and detailed records for personnel and contractors
What do you get from an audit?
The outcomes of smart data collection and management is the uniform data set it produces. This centralised data supports your energy assets condition, performance validation and management through their lifecycle.
An Industrias audit will give you an easy to understand and easy to implement report that can be maintained over time, including integration into subsequent design, finance or asset management systems. The report outlines initial findings, recommendations and insights with:
A prescriptive Room Registry that utilises site Building, Room and Asset naming conventions:
Includes space description, operating hours, dimensions and linked image folders via a filterable excel format; 
Per energy system Asset Registries
Including key performance metrics and condition reporting;
Structured folder hierarchy including:
Image Index – document series outlining key areas and asset images in a 'search and view' format;
Image Library – structured, folder-based hierarchy of each room and, within that, each asset captured;
Linked and labelled site plans for easy navigation of asset location and 'one-click' to key image folders.
Asset classes we can help with.
Refrigeration and Freezers
Building Envelope Infrastructure
Motor/Pumps/Variable Speed Drives and Building Management Systems
Appreciating and High Value Assets (ie: Violins, Artwork)
Find out how an audit can empower your decision making.
Book an obligation free consultation with one of our specialists today.
Please complete the form below.
"*" indicates required fields